Visual Narrative. Interactive Media. Game. Digital Art. Animation. Web Development. Writing, coding, teaching and learning.
Sarah Fay Krom is a multidisciplinary artist, designer, educator, and developer of digital media that plays with visual narrative. This is a selection of completed and ongoing projects, published titles, and writing. 
See All Recents Projects >
Website and Online Retrospective of the art and academic career of Edward Bakst.
Visual Inspiration and Research for "Grasp" at the Villa R Arts Residency.
Progress on the ongoing project, "Grasp", an interactive story 2D side scroller.
The Writing section contains reviews and articles about interactive titles, digital media and visual forms of storytelling. On occasion there are tutorials, or other anecdotes that just need a place to reside.
Recent and featured:
A look at Studio AATOAA's "Way To Go", a category-dodging interactive visual journey that paves a way forward upon the playable arts landscape.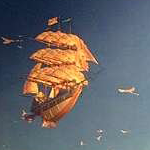 John Musker presented Treasure Planet at SCAD before the Savannah Film and Video Festival, elaborating on the artistic challenges for this sci-fi refitting of the classic tale.